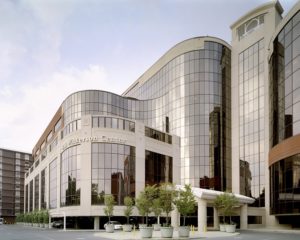 The Bill Wilkerson Center at Vanderbilt University Medical Center is a center of excellence that specializes in ear, nose, and throat diseases, including Microtia and Atresia repair, and communication disorders such as hearing, speech, language, and voice problems. Doctors and communication specialists work together as a team for the benefit of patients being treated in one or more of the Center's many closely related clinics. The Vanderbilt Bill Wilkerson Center for Otolaryngology and Communication Sciences was designed so that medical practitioners, speech-language pathologists, teachers of the deaf and hard-of-hearing, audiologists, and rehabilitation therapists could work side-by-side to meet all the needs of our patients.
The Vanderbilt University Medical Center is a comprehensive health care facility dedicated to patient care, research, and biomedical education. Our reputation for excellence in these areas has made us a major center for patient referrals nationally. Each year, people throughout Tennessee and the Southeast choose Vanderbilt University Medical Center for their health care because of our leadership in medical science and our dedication to treating patients with dignity and compassion.
The mission of Vanderbilt University Medical Center:  Through the exceptional capabilities and caring spirit of its people, Vanderbilt will lead in improving the healthcare of individuals and communities regionally, nationally and internationally. We will combine our transformative learning programs and compelling discoveries to provide distinctive personalized care.
Recent Accomplishments
Because we are committed to providing the best in patient care, education and research, we are proud of our recent accomplishments:
US News & World Report: #1 Hospital in Tennessee, #1 Health Care Provider in Nashville, #1 Audiology (the Bill Wilkerson Center), Otolaryngology is #1 in the Southeast and #6 in the nation, 12 adult and 10 pediatric clinical specialties ranked among the nation's best, #15 Education and Training
Truven Health Analytics: among the top 50 cardiovascular hospitals in the U.S.
Becker's Hospital Review: one of the "100 Greatest Hospitals in America"
The Leapfrog Group: grade "A" in Hospital Safety Score
National Institutes of Health: among the top 10 grant awardees for medical research in the US
Magnet Designated: Vanderbilt University Medical Center is the only organization designated Magnet in Middle Tennessee
Nashville Business Journal: Middle Tennessee's healthiest employer
American Hospital Association: among the 100 "Most Wired" medical systems in the US